Routes
Around Mathews, all roads lead to water… and you will see a lot of it on this ride!  Whatever route you choose will take you off the main road to the nooks and crannies of our little town – to the places the residents visit for quiet reflection, fun and adventure or even a bit of snuggle time with our sweeties.  Enjoy the ride; our special places are waiting!
The starting point for all routes is Thomas Hunter Middle School, 387 Church Street, Mathews, VA.  Each route has SAG support, signage, and a Rest Stop with ample food, drink, and potties.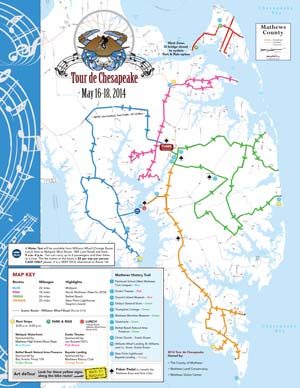 Routes are open from 8 a.m. until 5 p.m. on Saturday.
BLUE ROUTE – Mobjack – 22 miles
PINK ROUTE* – North Mathews* - 18 miles
GREEN ROUTE – Bethel Beach – 24 miles

ORANGE ROUTE – New Point Comfort – 24 miles

Choose any three and you've got your metric century!!
Click to DOWNLOAD Printable ROUTES MAP
*Note:  The Gwynn's Island Bridge is undergoing repair and, for safety reasons, is not on TDC routes this year.  Please enjoy Gwynn's Island with our PARK AND RIDE option on Saturday or Sunday. Parking areas are denoted on the map and include Seabreeze Restaurant and the Gwynn's Island Museum.
9 a.m.-4 p.m. – WATER TAXI available from Williams Wharf (Orange Route – Lunch Site) to Mobjack (Blue Route – Mill Lane Road) and back.  This taxi will run for 7 hours back and forth across the river.  It can carry up to 6 passengers and their bikes at a time.  The fee (taken at the boat) is $2 per trip per person – CASH ONLY please.  It is a VERY NICE alternative to Route 14!!!