RV PARKING AT MATHEWS ELEMENTARY SCHOOL:
We encourage you to bring your RV and park right next to the starting line of the Tour! There is a $15 fee that covers both Friday and Saturday nights. No hookups are provided. Restrooms and showers are available in Thomas Hunter Middle School (next door).
*Please note that RV's are allowed in the Parking Lot AFTER 4:00 p.m. on Friday (that being a school day and all…).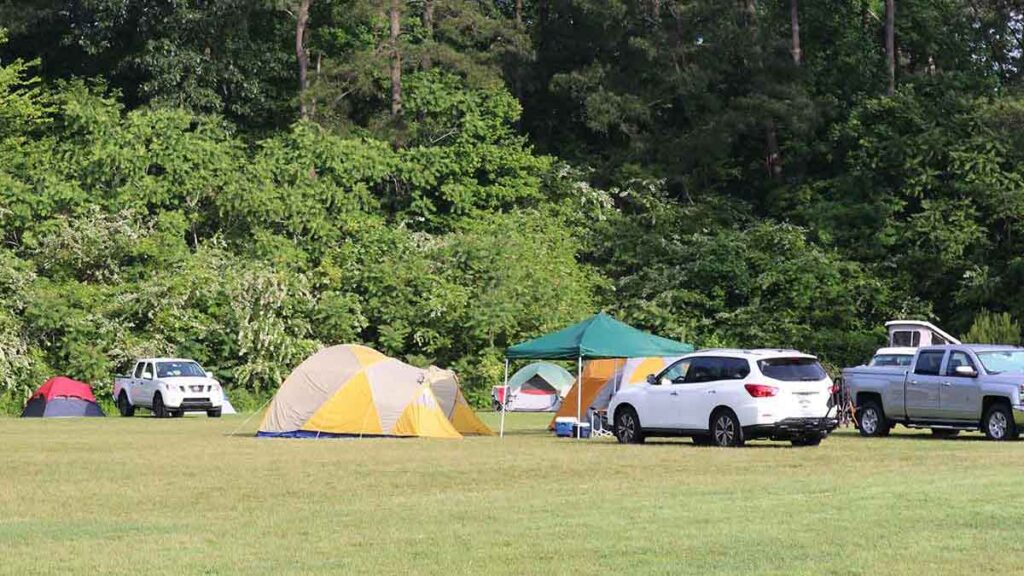 TENT CITY:
As always, we offer a free lodging option of setting up camp behind Thomas Hunter Middle School. Bring your tent, sleeping bags, and all your needs, but remember fires and alcohol are NOT permitted on the property. Restrooms and showers are available inside the school.
Best of all, if you stay at Tent City or choose RV parking, you will already be at the Start/Finish area of the Tour!
*Note: The school will be locked for security purposes from 11:00 pm until 5:00 a.m. Port-a-Johns will be available.
RV Parking and Tent City are both available from Friday at 4:00 PM until Sunday at 10:00 AM.
Here are some other places to "rest your weary bones"!!
BED AND BREAKFASTS:
MATHEWS COUNTY COTTAGE PROGRAM:
Lovely small 1-2 bedroom cottages and larger beach homes are available for rent by visiting VisitMathews.com
CAMPGROUNDS:
New Point Campground, 846 Sand Bank Road, New Point, VA – 804-725-3084 www.sunrvresorts.com/community/new
Gwynn's Island RV Resort, 551 Buckchase Road, Gwynn, VA – 804-725-3498 www.sunrvresorts.com/community/gwy
**Note: Cottages now available at campgrounds.
NEARBY HOTELS
(approximately 17 miles from Mathews):
Holiday Inn Express Gloucester, 6639 Forest Hill Avenue, Gloucester, VA 23061 (804) 695-1900 Holiday Inn Express is offering a 10% discount to TDC participants, mention TDC when booking
Hampton Inn, 6638 Forest Hill Avenue, Gloucester, VA 23061, 804-693-9393
The Tides Inn, 480 King Carter Drive · Irvington, VA 22480, 804-438-5000
Check out these websites for other cottage/home rentals in Mathews, VA: AirBnB.com and VRBO.com