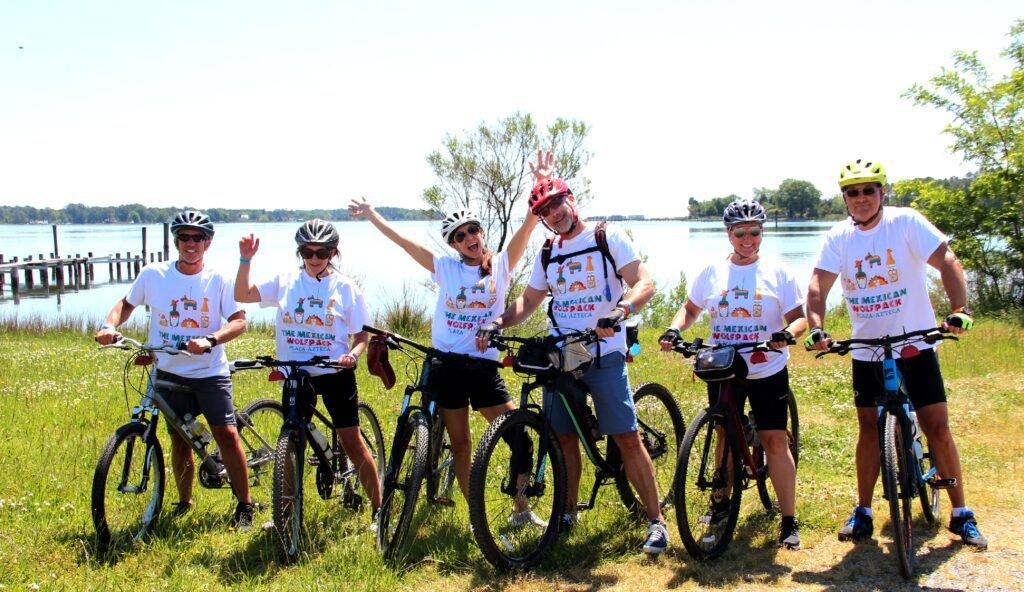 Around Mathews, all roads lead to water… and you will see a lot of it on this ride! Whatever route you choose will take you off the main road to the nooks and crannies of our little town – to the places the residents visit for quiet reflection, fun and adventure or even a bit of snuggle time with our sweeties. Enjoy the ride; our special places are waiting!
The starting point for all routes is Thomas Hunter Middle School, 387 Church Street, Mathews, VA. Each route has SAG support, signage, and a Rest Stop with ample food, drink, and potties.
Routes are open from 8 a.m. until 5 p.m. on Saturday.
BLUE ROUTE – Mobjack – 23 miles and Mobjack – Taxi Route 15 miles
Mobjack 23.1 Route and Mobjack 15 Taxi Route
PINK ROUTE – Gwynn's Island – 30 Miles
Gwynn's Island Cue Sheet
GREEN ROUTE – Bethel Beach – 24 miles
Bethel Beach Cue Sheet
ORANGE ROUTE – New Point Comfort – 25 miles
New Point Comfort Cue Sheet
Ride any route you wish at anytime. By combining routes, you can complete your century ride!
9 a.m.-4 p.m. – WATER TAXI available from Williams Wharf (Route 614 – lunch site) to Mobjack (Mill Land Road) and back. It can carry up to 6 passengers and their bikes at a time. The fee (taken at the boat) is $2 per trip per person – CASH ONLY please. It is a VERY NICE alternative to Route 14!!!
**Please note: Lunch time is the taxi's busiest time…you may want to plan to take it earlier or later in the day.
**PLEASE NOTE: TDC will provide a map for each cyclist and routes are clearly marked. TDC does not provide printed cue sheets, but cyclists may print their own.
A friend of TDC added our routes to RideWithGPS!
*GPS routes have not been tested by TDC officials.